15 April 2009
more pix from
the Cape of Good Hope:
03 April 2009
here's a playlist of hot tunes infused with some African beats...
Pan African - Flight 1
(37 FREE MP3Z)


Pan African - Flight 2
(62 FREE MP3Z)

i love
Cape Town
. i'm just chilling with the family right on the beach, going to braais (South African bbqs) & wandering around town...



"Jogging for Jesus" (track #43) is hyster

i

cal! you'll recognize new tunes & remixes for Andreas Tilliander, Bat For Lashes, Boozoo Bajou, Chromatics, Fannypack,
Fe

ver Ray
,
Glass Candy
,
La Roux,
Lykke

Li
,
M.Ward
,

Phoenix, Portishead, Remi Nicole,
Roísin Murphy
,
Royksöpp,
Sia
,

Phoenix,
Savath y Savalas
,
Sébastien Tellier,

The Tallest Man On Earth,
The Teenagers
,
The Whitest Boy Alive,

Thieves Like Us
,
Tommy Sparks...
i threw in a few classics from Beethoven to Ennio Morricone, Smokey Robinson to Stevie Wonder, Simon & Garfunkel to France Gall, Desi Arnaz to Bill Withers, The Traveling Inner Lights to South African duo The Movers... old school African tunes i love are by Rikki Llionga, Monomo, Mory Kante &
the legendary
Miriam Makeba
who recently moved on...


the African beats i mixed in are South African, Zimbabwean, Zaïrian/Congolese, Ghanaian, Malinese, Nigerian, Senegalese, Tunisian, etc.
one of my faves is "Sabali" by Amadou & Mariam at #70!
i'm too lazy to clue you in on the songs; they're all credited properly so if you must, check them out on myspace or google them...
i'm also keeping my ears pealed for the local music scene..
.
it's 40 degrees celsius in the day (around 100f for those of you in the USA); the temperature drops to a nice 20c at night (about 70f). i spend most of my time on the beach, but will do more with my folks in the winelands (where my mother was born) & enjoy the nightlife with my brothers, cousins & friends...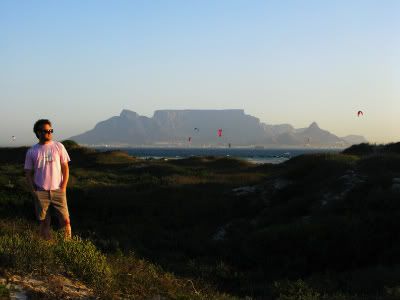 check out this fun video:
this is track #90 on my playlist.
here are 2 more with the picturesque
Table Mountain
in the background (over 3000 feet high, a good 2 to 3 hours hike up from the city with fantastic views - the best work out in the world!!!).
i'll post more pix from the top later on: