comrades... beautiful people:
it was really nice to be reunited with my 2 brothers, mom & stepdad; we hadn't all been together since last christmas in miami. of course, there was a little tension here & there, mainly due to my lack of focus & responsibility, compared to how organized they all are. but in the end, it all fits like a puzzle full of love. i cooked for everyone which was fun. i luuuv cooking so much. we also ate in some fine restaurants, did a little tourism together, went to some shows, and did the "lets meet back here in 3 hours" kinda thing so we could each be on our own, which was necessary. tuesday october 30th, i was walking around dupont circle, the "alternative" hood in d.c. & i stumbled upon the high heel race on what i guess is the gayest street in d.c... a whole street closed off for a race where most of the contestants were drag queens in high heels. i made some funny & interesting friends that night... d.c. is actually very liberal under its conservative appearance. i really like that... even the drag queens are conservative! anyhew, here are some pix, then some of new york were i spent 5 days as well...

with the family in d.c...
at café belga - their belgian menu has the widest selection of beers...
jonathan ran "the people's marathon" organized by the marine corps; it's the only big marathon in the US of A that doesn't give out prizes to the winners, that's why it's called the people's marathon. the course is really nice, passing through to all the monuments & landmarks of d.c. & alexandria...
i still prefer my method of sightseeing: strolling!
and this is a pic of me my mother took on the d.c. metro, on our way to pentagon city to meet eric for lunch, and a family friend i hadn't seen since the 80s, wow i'm getting old...
i think i was trying to follow up on a work call, u know, not to feel like a total slacker i guess... besides, i'm always happy to do so when it concerns the few outstanding clients who have graciously opened their arms to me, myself & i... "L'Union Fait La Force" is what it says on the belgian passports, meaning Union Makes Strength... funny coming from a kingdom the size of LA to San Diego, yet divided in 3 federal states (Brussels-Capital bilingual, Flanders dutch speaking, Walloonia french speaking) where all sides keep trying to find ways to get independant, which has never happened due to the fact that all 3 regions have united under one king up till now... but as in any modern kingdom, the king is rapidly losing any kind of leverage he might have on all 3 sides, which has to be difficult to maintain considering the buraucracy (3 ministers for every department, one for each region, none of them ever agreeing on anything!)... how ironic, considering Brussels also is the capital of the European "Union." anyhew, back to my east coast journey...
in NYC, panOptic wrapped up a
NEW VIDEO
for John Wolfington, produced by Steve Shelley from
Sonic Youth's label
. the video was directed & animated by my friend gary who owns panOptic (i represent them as well). i really like the song & the vid... here's a
cool review
if interested in more info... (in case you're all spaced out or you lost yourself like the song says, let me point out that by clicking on the bold/italic/pink words you get to the links!).
i was mugged in the village haha (how 80s of me!), so my life line won't be back in service till i get a replacement treo phone. meanwhile, you can reach me on my personal mobile if you really need to talk; you have those digits if we're close enough
. anyhew, here are a few more pix. not so much of stuff i shot, but of a few cool players & me...
1st night in the big apple, busted in a new york minute...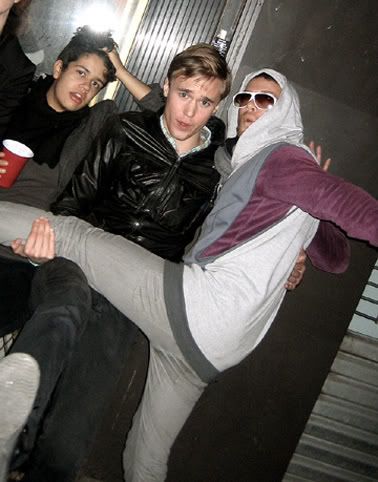 i'm just an
ewok
& this is erika from
Au Revoir Simone
...
if you're in london on 11.15 or paris on 11.19 go see them!
i think i'm scaring siobhan's friend...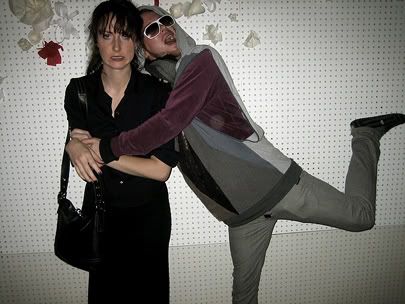 with kara & arnold (this was at this guy dan's place by the way; dan is from LA and was making fresh burritos all night for everyone; still they just don't taste the same than in LA, where the mexican food is sometimes even better than in mexico)...
siobhan & i on our way back underground...
i also went to Q Department for some cake & veuve...
and here's jacqui & me... jacqui is from south africa, just like my mom who's actually belgian but born in capetown... i guess all south african ladies are classy, whether they're blonde or brunettes! jacqui is a genius; she has the most sophisticated taste & the most inspiring work ethic, having founded 3 companies in her 10 years in the big apple, Q Department being one of them, which i represent...
if it wasn't for the Q Dept. crew, i would have been stranded without a dime, and that would have sucked in the big apple! i love this crew!!!
the next day i met up again with the q dept. crew & we swung by a smuggler party (some production company for those of you who don't know)... it was a late halloween party so i brought my green lizzard mexican wreslter
mask... i had purchased the mask in mexico city, back in 99 i think, when i was the production coordinator on a shoot for fuji television, being the only white guy on the crew who was fluent in spanish. we shot a few segments in the lucha libre arena in mexico city, and it was mayhem, not to mention brutal. anyhew, here's me wearing the mask in NYC...
the
smuggler party
was fun for a while then i left to join the SNL afterparty that started at 1am. my friend nery works for SNL & was able to get me in with a friend. she wasn't so pleased when i showed up with a friend -gary- & 2 girls from the smuggler party wearing no skirts or pants, just panty hoses (their costume was the hall of shame i think)... anyhew, we all got in & i joined nery at her table...
it was at this place called bon appetit (a temporary pop-up restaurant by chef dina de laurentis or something & sponsored by the magazine, in the former space of the hard rock)... the food was amaaazing & the service impeccable. anyhew, i bummed a cigarette from amy pohler, and i bumped into seth meyers.
without skipping a beat, i totally geeked out when i saw my SNL hero for the past few years
MAYA RUDOLPH
. i loathe oprah & she makes the funniest
oprah
impersonation in the world
. m
aya also
makes the funniest donatella versace,
whitney houston
(amy pohler & seth meyers are in this one as well),
and does the best rendition of american anthem in the universe as
pamela bell
!
i never ever geek out but i couldn't control myself, i walked straight to her & introduced myself & we chatted for about 5 precious minutes. she was sooooo sweet, and i was such a dork! i can't believe how much of a dork i was... the only other time i've ever been starstruck was when mick jagger tripped on me sitting on the floor & fell on top of me, back in the 90s... i've even bumped into björk & wasn't starstruck (ok maybe i was too high back in the 90s to feel anything but...). of course, i topped it off total cliché style by bringing up maya's mom,
MINNIE RIPERTON
, and talking her up as well. minnie is one of my all time favorite female singers! anyhew, there were tons of hot security studs around & nery later told me barack obama was in the room & that's why. i never noticed him. all i gotta say is where do i sign up to be a black man running for the presidency?! i want me some security just like his! would have been nice when i got mugged!!!
nery was tired & SNL gets her a town car back home every saturday, or off to wherever else... but she went home, and instead i stayed out with gary who took me out to Béatrice, some "cool" bar in some basement with manhattan's version of what trendy is i guess. i can't really remember what part of town it was in, maybe soho, but it looked more village-ish (east or west?) or maybe tribeca. after the shock of meeting maya rudolph i just followed without paying attention to where i was going. Béatrice was fun, and the crowd was really friendly. gary met some girl, and i met 2 models & their lesbian friend from berlin. around 4am when they started kicking people out, we were guided to the side to stick around for a bit longer but i was just so tired. the models escorted me to the subway & i took my ass back to nery's for some sleep.
oh, here's a pic of nery & me the next day, in the upper west side, at some cuban place called calle ocho...
nery & i go way back, and she had
absolutely no patience for my bullshit. i think i really tested her patience. i did cross a few of her boundaries & was called on it big time. but we had fun at calle ocho... real friends for life!
back in d.c. my brother eric & i went to the synagogue on our last night together for a while. i was flying back to LA the next day; he's going to afghanistan for a few months to help train government branches such as the armed forces & police enforcement or something like that. fuck, afghanistan!!! his life is so different than mine! here's eric & me:
this historic synagogue on 6th & I (chinatown in d.c.) has great music...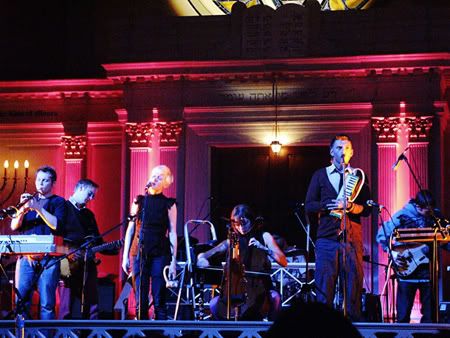 the music was sadly beautiful, yet infinitely soothing & delightful...
i really love d.c... it's small & kinda weird with lots of suits & uniforms being all normal or as if it was the most normal thing in the world to be in the metro or in a bar wearing a suit or some sorta camouflage military uniform. at the same time, it's nice to get my head out of that whole "super-onto-the-next-cool
-thing" bandwagon everyone seems to pretend they're not on in lalaland or new york. ok, well some are on it & really don't know they are but visually, it's hard to differentiate what's real & what's not. trust me, in d.c. what u see is what u get, well, on the metro at least, or in bars i think... surely not on capitol hill! ok, i'm not making a point after all...
still, there's something refreshing about d.c. & something familiar i guess, having grown up in the diplomatic corps. one thing that is undeniably great about d.c. is the music scene. it might be a small town, but there's always a good show from touring artists & locals alike. the day i left, eric was going to see my australian friend
SIA
who lives in LA but was performing that night in DC. she kindly put eric on the list. i left my brother in peace
knowing he got to see sia. her voice warms the soul... upon landing in LA i already had an email from eric with the pix he took at her show:
...
sia is off to europe now, so please go check out her shows if you're on the other side of the atlantic. she's magical!
well, it's so good to be back in LA with my cheech, the best dog in the world!!! now i need to catch up with my doctor, my dentist & most importantly my psychiatrist, my therapist & my nutritionist... back to work!!! urgh... and back to sales & finding ways to pay the bills woohoo... usually when i leave NY i always leave wondering what it would be like to stay & live there. for the very 1st time ever, i can safely say that i couldn't wait to leave NY. there is no way in hell i'd want to live there. LA rules!!! the weather is swell'n dandy & the people are wonderful. i bumped into an old friend -howard- on the plane & he gave me a ride home. fuck cabs, fuck subways, fuck it all, except for LA, cars & the best friends in the world. well, for now... according to the cops in ny, greenwich village is the hotspot for muggers, so my advice is to stay the fuck away from the west village swine if u want to have a nice stay in ny... or just ignore it all together, LA is where it's at! i never thought i'd say this, but i love the cops, in ny at least, they've been so nice & have followed up with me 3 times already... then again, fuck the pigs, who needs'em outside of ny? u know what, fuck the east coast. i'll take fires & earthquakes over muggings & guns anytime!!! bring it on! (pardon my french!)...
i'll wrap this up with a pic of my d.c. lover, a big yellow panda bear who likes to hang out in the front yard... i wuv him!!!