first,
Holy Fuck
opens at The Echoplex: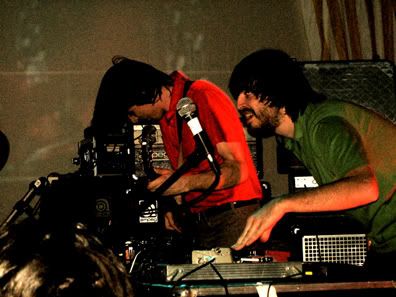 then we took a break to get some air. it was nice to see Nate again. i hadn't seen him in a while. we used to work together years ago & have since found much greener pastures. he is now with my favorite LA record label
Stones Throw
.

anyhew, here's Nate with Deb & me: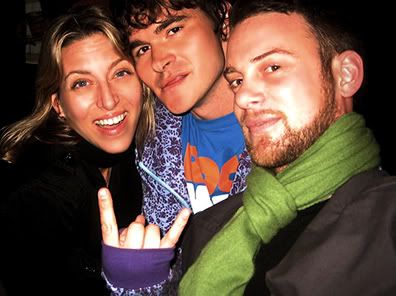 introducing the real stars of the night, Deb's tits:
Jenn fro
m
Beggars
kindly put our names on the guest list: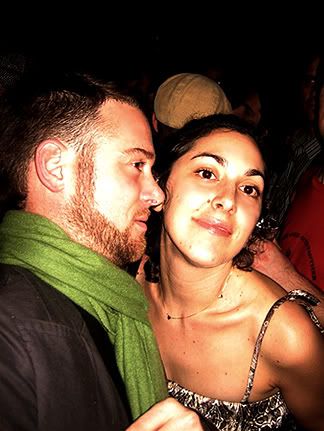 the show was sold out & it was mayhem outside the venue. even being listed i would have had to wait in a long ass line & possibly miss Holy Fuck. fortunately, Damian, big black bouncer, recognized me from when i used to go to the Shortstop where he worked the door. he allowed us to skip the line where i bumped into the Echoplex's manager (i met her at another party) who got us in without even having to check my name at the door. we walked in just as Holy Fuck started their set. easy breazie... by the way, Jenn is from NY & just moved to Beverly Hills 5 months ago, so if you see her around, please be kind & welcoming... she will be leaving the Beverly Hills wasteland for a home in the much richer east side, up the hills of Echo Park on March 1st, so you might see her around more...
Super Furry Animals
take the stage: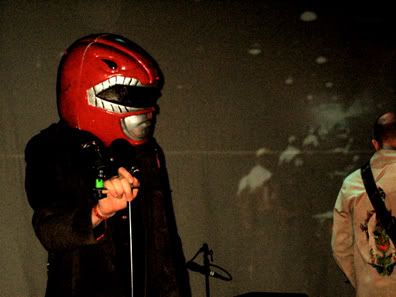 we went back out for some air & i took a few more pix:
Marisa from
Deutsch
:
customized vans:
Andrew from
Media Arts Lab
& cute girl friend:
on my way out i bumped into my former housemate of 8 years, Brian, lead singer of the
Silversu
n Pickups
. he's the best! when we met back in the mid nineties at USC, i think he was an even bigger Björk freak than i was! anyhew, we left the Echoplex to meet up with Fernando & Davon who were playing records at the Verdugo: