last night Trevin directed a segment for Dublab's upcoming Vision Version. it's LA's answer to one of my favorite sites,

La
Blogothèque
from Paris. New York already has
One Take
... it's basically about inviting local bands, and bands traveling through LA, to perform in local spots we like, or in whatever setting the artists & directors agree to. i'm really excited about Dublab's new initiative, which should launch on the web sometime this week. keep checking the
DUBLAB
site... they've already shot segments with several bands or individual members of bands you like or should like, including
TV on the Radio
...
this segment was about transgender
B
aby Dee
,

a phenomenal singer/songwriter/piano player i had never heard about. she performed several songs at Mia's, a really cool lounge in Echo Park i've been going to for many years... they stay open well after 2AM. this spot has a David Lynch kinda vibe, and is run by owner Mikki, who was a cabaret singer in Tokyo till the 70s, when she moved here & opened her lounge, which has now been around for almost 30 years... on one of my birthdays, Mikki made me a cake & sang Happy Birthday to me, in a twisted Japanese version of Marylin Monroe's "Happy Birthday Mr. President." Mikki rules! i luuuuv her!!!
anyhew, here are some pix i took:

i want a ceiling like this at home:


Mikki's portrait by the piano:


Frosty, the man behind Dublab:


Frosty with Baby Dee:


setting up:

Dionne Warwick
watches over the shoot: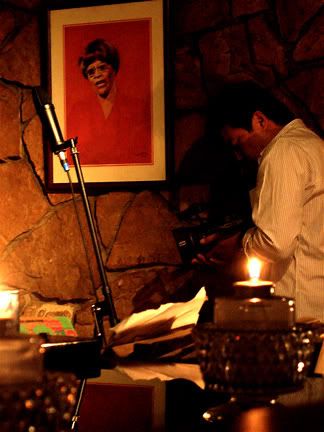 this was such a touching performance. i should have gone home to bed after that but instead went to
Moustache Mondays
a few blocks away...