down the hill from my pad is the
Hyperion Tavern
where we played guitar hero on stage; they do guitar hero battles every Wednesdays. fun fact - this was a gay leather bar called Cuffs before the neighborhood's gentrification turned it into the Hyperion Tavern last year. the transformation works for me. i only went to Cuffs twice & i won't really miss it, although i miss knowing there's a seedy leather bar around the corner, just in case... anyhew, the only problem was that twice the fuses blew & the lights on stage as well as the guitar hero system went down, so we hung out in the dark & without music while they figured out how to get the power back on: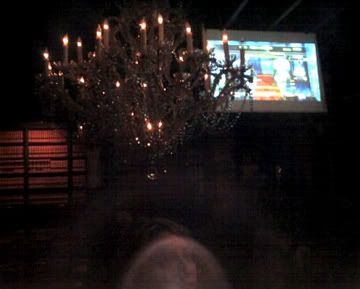 Andrea's house party. Andrea is the man behind the
Milano Film Festival
. he was having a
Sundance
reunion at his pad (i didn't go but my friends did), and cooked for everyone (an eclectic crowd from all over LA & the globe), and almost everyone had caught the flu in Sundance, i almost wanted to wear a mask:


i met this guy who was reading people's hands, and when he looked at mine he told me he saw 2 kids & had trouble seeing my life line, telling me he was sorry but didn't see a long life line. ummm, okayyy, asshole! it didn't bother me then but it kinda freaked me out later. i discovered that lines on the palm of your hand change constantly who's to know, i mean, we were at a party in the fucking hollywood hills, that guy probably read something about reading lines & thinks he can do that now... anyhew, here's the view of hollywood & downtown LA from Andrea's pad:



on Friday i went to
First Fridays
. this is my favorite room at the natural
history museum of los angeles:


dinosaurs are massive:


we weren't the only cool cats in the house:


A-Track warms up the crowd:


A-Track introduces his girlfriend, Kid Sister:


yo' mama: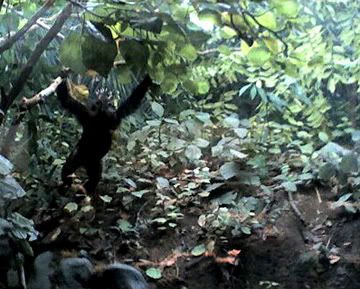 elephants like music too:


the in-crowd:


there are much better pix of the night
here
...

sometime last week, i took this pic of Chicho in front of a neighborhood storefront on Sunset Blvd; very Silverlake: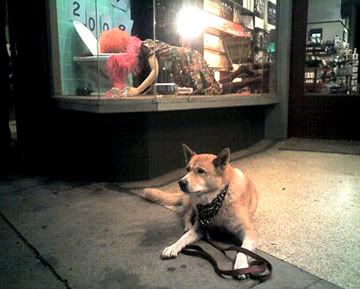 yesterday i had to go to Koreatown, a 5 minute drive from Silverlake. but i took public transportation which involves a 5 minute bus ride then a 5 minute metro ride. with the waiting time in between it took me 20 or 25 minutes. in some cases, public transportation in LA is fantastic...
here's a pic of Wilshire Blvd in K-town:


this finger points towards a metro station entrance:


the Los Angeles purple line:


cool 70 years young guy in the metro:


cool black guy on the bus:


that's all folks!